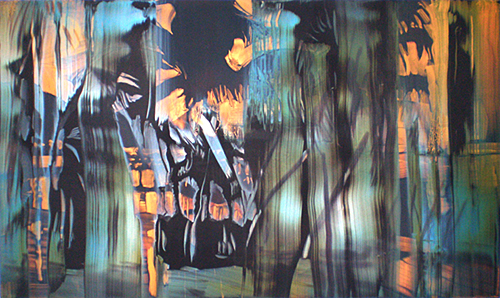 Malerei is a series of nine solo exhibitions with the duration of one weekend, in the projectspace of Het Wilde Weten in Rotterdam. This seventh Malerei account the paintings of Maartje Overmars (Eindhoven, 1979).
"Overmars, originally a graphic designer, paints architectural scenes (…) in which dramatic and unnatural light play a major role. She is particularly interested in how light or reflection can change the appearance and atmosphere of a space. Her approach emphasizes this fascination: Overmars lets the light underneath the paint come out. With an airbrush she applies several layers of oil paint on aluminium or MDF, looking for smooth, print-like colour planes. By then partially scraping away these layers with a brush and paint thinner she allows the light to break through the paint. In this way Overmars knows how to create a large spaciousness on her canvases with minimal resources. In her own words: "I paint spaces, because painting can create only an illusion of that, but my paintings are ultimately flat sculptures."
Ruth de Vos (website Metropolis M, August 10, 2008)
Opening Saturday March 3 2012, 21:00 – 00:00
And open on Sunday March 4 2012, 13:00 – 17:00
Malerei is een serie van negen weekend solo-tentoonstellingen in de projectruimte van Het Wilde Weten te Rotterdam. Deze zevende Malerei laat werk zien van Maartje Overmars (Eindhoven, 1979).
"Overmars, oorspronkelijk grafisch vormgever, schildert architecturale voorstellingen (…) waarin dramatische en onnatuurlijke lichtval een grote rol speelt. Zij is daarbij met name geïnteresseerd in de manier waarop lichtinval of weerkaatsing het uiterlijk en de sfeer van de ruimte kunnen veranderen. Haar werkwijze benadrukt deze fascinatie: Overmars laat het licht onder de verf tevoorschijn komen. Met een airbrush brengt zij olieverf in verschillende lagen aan op aluminium of MDF, op zoek naar egale, op drukwerk gelijkende kleurvlakken. Door deze lagen vervolgens gedeeltelijk af te schrapen met kwast en verfverdunner laat zij het licht door de verf heen breken. Zo weet Overmars met minimale middelen op haar doeken een grote ruimtelijkheid te creëren . In haar eigen woorden: 'Ik schilder ruimtes, omdat schilderkunst daar alleen een illusie van kan scheppen', maar 'mijn schilderijen zijn uiteindelijk platte sculpturen."
Ruth de Vos (website Metropolis M, 10 augustus, 2008)
Opening zaterdag 3 maart 2012, 21:00 ­– 00:00
En open op zondag 4 maart 2012, 13:00 – 17:00