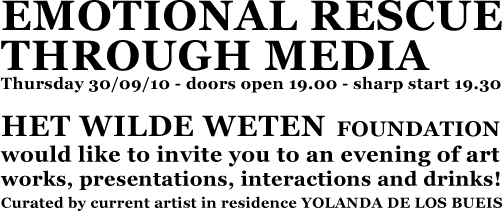 The conductive thread for the evening is the connection between physical and digital space and how it relates to every day life, to physical intimacy, to the individual and collective emotional spaces, and to the way we relate to space and to each other.
In a world over-saturated with data and virtuality, is emotional rescue possible through physical media?
In another layer, how technology playfulness and gaming as a performative art form create new political, cultural and socio-economic spaces in which audiences are co-producers of art through a personalized experience of the media, putting to the test the meaning of interaction in a world over-saturated with information and virtual social networks.
This processes are in tune with a clear current demand: to position art practise, in which everything is possible, within a fabric of technological media, urban geography and out-of-the-museum art expectations.
Yolanda's work is on exhibition as part of the current RAIR (Residencies Artist initiatives Rotterdam) show Liberty Control on 24-26 Sept and 1-3 Oct at Duende Studios, Tamboerstraat 9, Rotterdam
Current guest artist Yolanda de Los Bueis is funded by Sala Rekalde.
GUEST SPEAKERS
Anne Nigten
Anne Nigten (PhD) is the director of The Patchingzone, a praxis laboratory where Master, PhD students and professionals work together on meaningful creative content. Prior to her current position, she was the manager of V2_Lab, the aRt&D department of V2_, Institute for the Unstable Media in Rotterdam, the Netherlands. She is lecturing on research and development in the interdisciplinary field from an art perspective. She is adviser for several media art and science initiatives in the Netherlands and Europe. She completed her PhD at the University of the Arts London (UK), and frequently publishes papers on art, engineering and (computer) science collaboration and software development.
www.patchingzone.net
Yolanda de los Bueis explores new forms of performance and audience interaction in the context of live events.
Her interest is in the capacity of new media to intrude into daily life and the potentiality of interactions between audience, author, mediator and artwork. In a post-authorship Art scene, Yolanda uses evolving technologies and games or the playful as a way to reach an audience that is over-saturated with information. She aims to prompt audiences with a question and provoke a change or shift in their psychological habits.
Yolanda is also interested in the aesthetics of technology itself – the language of broken, fragmented, coded and glitched digital imagery.
Her video and installation work has been exhibited across the world including Madrid Abierto and Sala Rekalde (Spain), Zendai Museum of Modern Art (Shanghai), Canal+ (France), and ZKM (Germany). Her award-winning work has screened in over 50 international video film festivals.
www.spyoy.com
Jan Misker
Jan Misker was appointed project manager at V2_ in 2006. He is responsible for managing projects that have a strong technological and/or scientific aspect, for example involving wearable technology or augmented reality. Furthermore he is very interested in all aspects of contemporary dance. Jan holds an MSc in Cognitive Science and Engineering.
www.v2.nl
Melissa Coleman


Melissa Coleman is an artist working with wearable technology. Melissa's work focuses on the relationship between the human body and technology. She is inspired by old media, the performative body and sense augmentation. Through her work she tries to forge intimate relationships between people and technology. Melissa teaches Electronic Textiles at the Royal Academy of Art in The Hague and is coach at the Wearable Senses theme at Industrial Design at the TU Eindhoven. Together with Piem Wirtz from V2_ she founded the E-Textile Workspace. In 2010 Melissa co-curated the exhibition Pretty Smart Textiles, which showcased electronic textiles made in the Netherlands.
www.dancetechnology.nl
Marnix de Nijs


As an artist, De Nijs shows how culture acts upon our senses, and he expresses this in a great variety of ways, making use of continually-changing technology. This allows him to emphasize a new role for the artist that seems to have been established by our developing culture of technology.
Marnix de Nijs will present his ongoing project Exploded Views, an immersive installation in which the visitors physically navigate through an audio visual 3d cityscape. The projected 3d visuals are constructed from images found in web 2.0 databases such as the photo website Flickr. These images reconstruct a 3D model of the city, thus forming a collective representation based on the memories of those who initially took the photographs. The aesthetically designed models will be highly detailed at locations where people are inclined to take the most pictures and less detailed.
www.marnixdenijs.nl