Saturday September 12th, 2009 at 20:00h
Garage Sale with live performances. Lot's of material and stuff for sale during this evening! All for 1 euro. From the deep and dark basement of Het Wilde Weten. From the caves of endless trash, moisty, dirt, deep down under. Rejected artpiece. Sentimental. never thrown away…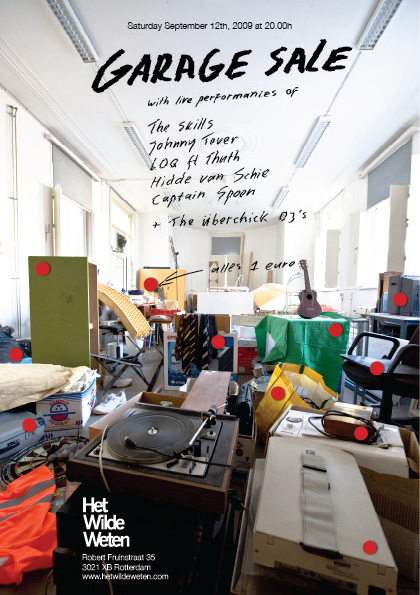 This in combination with some special guest artists who can play some Rock 'n Roll! It will all happen on their own build stage's. Constructed from trash of Het Wilde Weten.
They all play the electric guitar in a very special way. Maybe with plectrum, maybe with teeth, maybe with broken toenail.
We will be surprised with their songs, their stories, their personal sound.
with live performances of:
THE SKILLS
JOHNNY TOVER
LDQ FT THUTH
HIDDE VAN SCHIE
CAPTAIN SPOON
and the ÜBERCHICK DJ'S