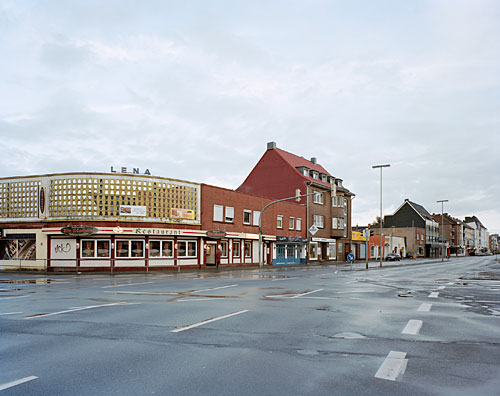 With Kim Bouvy, Elian Somers, Oliver Godow, Marie-José Jongerius, Viola Weigel, Frits Gierstberg, Caroline von Courten. Moderator: Saskia van Stein.
Friday 2 November 2012, 20.00h, doors open 19.30h (English spoken)
Entrance free, reservations rsvp info@hetwildeweten.nl  (Facebook event here)
This summer the exhibition 'Learning from… Rotterdam' was on view at the Kunsthalle Wilhelmshaven (DE): a photographic dialogue between the harbor cities of Rotterdam and Wilhelmshaven. The exhibition featured commissioned works by a.o. Elian Somers (NL), Kim Bouvy (NL) and Oliver Godow (DE).
Since 2007, the Port of Rotterdam Authority and the Nederlands Fotomuseum have been commissioning photographers to reflect on the Maasvlakte 2, the extension of the Rotterdam harbor. The latest work is 'Lunar Landscapes' by Marie-José Jongerius, on view at the NFm from November 3.
The symposium reflects on these dialectic representations and questions their influence on the image and conception of the city.
With Kim Bouvy, Elian Somers, Oliver Godow, Marie-José Jongerius (artists), Viola Weigel (director/curator Kunsthalle Wilhelmshaven) Frits Gierstberg (Head of Exhibitions Nederlands Fotomuseum), Caroline von Courten (writer, curator). Moderator is Saskia van Stein (curator NAiM/Bureau Europa)
A small exhibition of the commissioned works by Elian Somers, Kim Bouvy and Oliver Godow will be on display in the project space of Het Wilde Weten during the symposium. If  you can't make it to the symposium but would like to see the works Saturday 3 or Sunday 3 November, please email to info@hetwildeweten.nl.
The symposium is organized by Het Wilde Weten and the Goethe Institut Rotterdam
Oliver Godow: Fruits of the city (Rotterdam), 2012
Top image: Kim Bouvy – 'Lena' (Wilhelmshaven) 2012