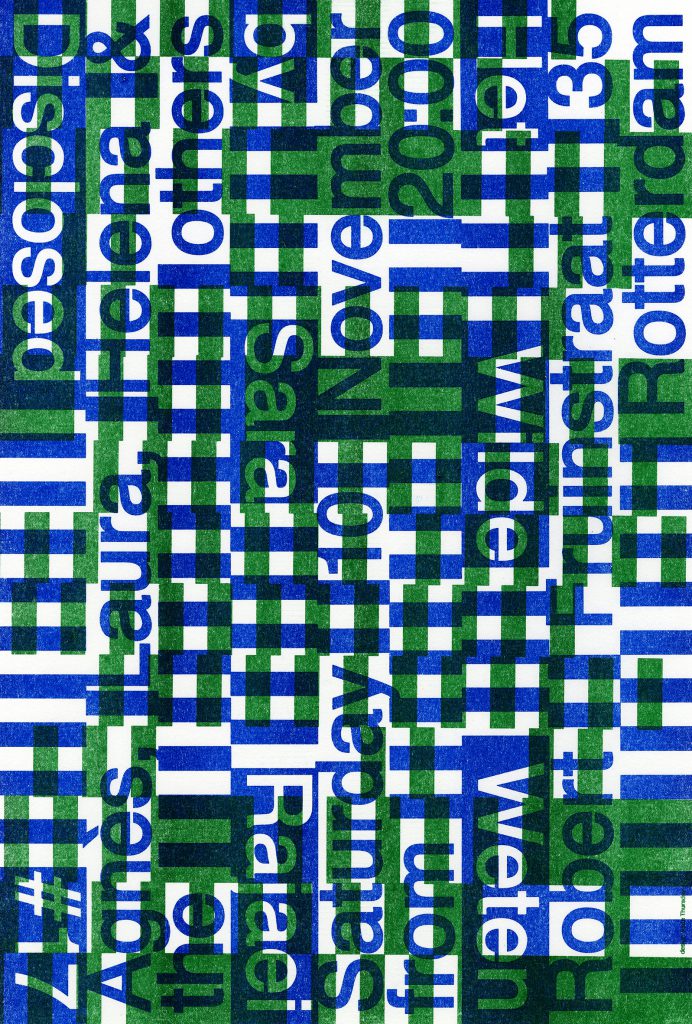 Disclosed #17 / Sara Rajaei
Agnès, Laura, Helena & the others
Saturday, November 10, 2018 at 8 pm
HET WILDE WETEN
"There is a certain part of all of us that lives outside of time. Perhaps we become aware of our age only at exceptional moments and most of the time we are ageless. In any case, the instant she turned, smiled and waved to the young lifeguard (who couldn't control himself and burst out laughing), she was unaware of her age. The essence of her charm, independent of time, revealed itself for a second in that gesture and dazzled me. I was strangely moved. And then the word Agnès entered my mind. Agnès. I had never known a woman by that name." – Milan Kundera, Immortality, Chapter 1: The Face, Section 1, (1988).
Agnès, Laura, Helena & the others is the first presentation of Sara Rajaei's ongoing project; The picture book without pictures, a comprehensive artistic research on the oeuvre of the Czech author Milan Kundera. Her project centers on language, examining Kundera's body of work and his struggle with translation, seeing himself as misinterpreted, mistranslated and misunderstood.
While the first part of the project specifically focuses on text, the second part brings together a series of larger than life-size pencil drawings inspired by some of Kundera's characters, creating an archive of bodies. These were envisioned and drawn by Rajaei through her reading of Kundera's literal descriptions which voice his emotional distance, and analytical criticism of his characters' traits and physical appearances.
For Disclosed #17 Sara Rajaei presents a selection of these drawings and preparatory studies completed between 2016 and 2018.
Agnès, Laura, Helena & the others is part of the public program DISCLOSED initiated by Het Wilde Weten, which has been running throughout the last two years. Het Wilde Weten consists of sixteen artists that have a studio in the former nunnery at the Robert Fruinstraat. Every six weeks one of the members hosts a public event that derives directly from their artistic practice. This results in lively series of talks, exhibitions, screenings, performances and more, disclosing the energy and pluriformity of the collective and creating public moments to meet and interact.
With special thanks to Team Thursday for the poster design & Lora Sariaslan and Neva Lukic for their ideas and (curatorial) support. This program is kindly supported by the Mondriaan Fonds.